Formation CERIU
Register now for this informative webinar focused on the clogging of municipal sewer systems. This event includes our own Marc Anctil as a trainer.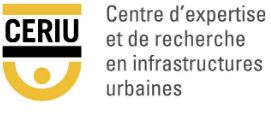 This training aims to introduce participants to new high-performance scientific avenues, transport technologies and rules for carrying out work to clog sewer networks.
Lasting 4 hours, participants will learn the "  fundamentals of municipal sewer sealing  "  unmatched in the sewer and trenchless technology industry.
Target audience
This training is recommended for design engineers, municipal workers and trade contractors.
General objectives
Benefits of plugging municipal sewer systems include long-lasting solutions to control seepage/catchments, stabilize sewer trench to mitigate structural degradation, reduce flow to sewage treatment plant to increase capacity and reduce costs for municipalities. 
Specific objectives
This course will review the history, causes, rehabilitation goals, technologies and possible grouting techniques for applications in municipal infrastructure, such as water mains, manholes, connections and connections. of connections.
CONTENTS
Introduction
Module 1: History of sewers
Module 2: Consequences of infiltration
Module 3: Test, seal and validate
Module 4: How Acrylamide Works
Module 5: Acrylamide Use Around the World
Module 6: Injection / sealing truck
Module 7: Process for sealing joints
Module 8: Details of gasket injection sleeves (Packers)
Module 9: Process for Sealing Branches from the Water Main
Module 10: Details of Side Packers
Module 11: Complementary Technologies
Module 12: Manhole Sealing Techniques
Module 13: Mixing Chemicals
Module 14: Gel Strength
Module 15: Chemical Safety
Module 16: Specifications and Standards
Learn more and register here.